Where to eat fondue and raclette in Andorra
Fall has arrived, and with it, one of the best times of the year to savor comforting and delicious dishes that help us combat the cold and celebrate the season of golden leaves. Andorra is getting ready to welcome food enthusiasts with open arms, offering a culinary experience that will make you fall in love even more with this season.
Fondue: an autumn classic with history
For those who are not yet familiar with fondue, this dish is a true gem of Swiss cuisine. Fondue is characterized by melting cheese and serving it as a delicious creamy mixture in which to dip a variety of foods, from chunks of bread to potatoes and vegetables. The origin of fondue dates back to the Swiss and French Alps, where shepherds used to make use of leftover cheese and other ingredients to create a hearty and warm dish that would keep them cozy during the cold autumn and winter nights. Over time, fondue has become an iconic culinary tradition that has transcended borders and earned a special place in the hearts of food lovers worldwide.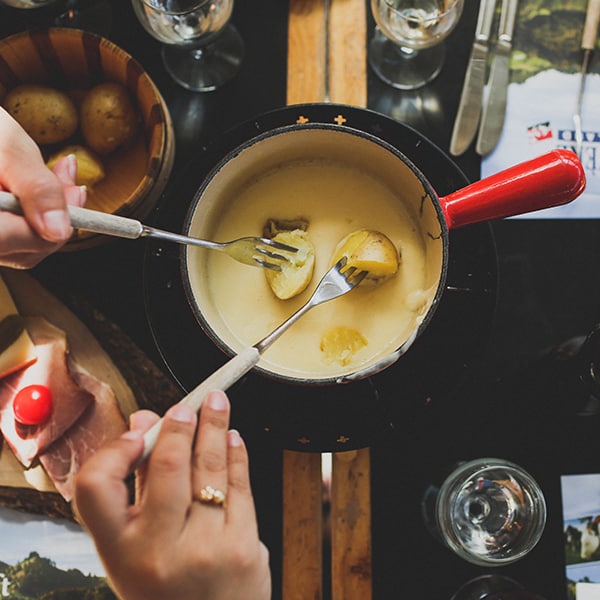 La Fonclette: The art of Fondue and Raclette
At the La Fonclette restaurant, we take this tradition to the next level. We are passionate about fondue and raclette, two Swiss dishes that epitomize comfort and flavor. Here, you can indulge in a wide variety of fondues, each with its own personality and distinctive flavor.
Our cheese fondue is a true classic, featuring a blend of carefully selected Swiss cheeses that melt into a perfect consistency. Served with freshly baked bread chunks and an array of toppings, we guarantee an experience that will tantalize all your senses.
But that's not all; at La Fonclette, we also offer meat fondue, a perfect option for protein lovers. You can dip tender pieces of meat into hot cheese and cook them to your liking, ensuring an interactive and delicious meal.
Furthermore, we can't forget about raclette, another Swiss dish that is equally comforting. Raclette involves melting cheese on a hot griddle and serving it over a variety of accompaniments such as potatoes, ham, and pickles. It will make you feel like you're in the Swiss mountains.
At La Fonclette, we believe in the authenticity and quality of our ingredients. We work with premium cheeses and fresh products to ensure that each bite is an explosion of flavor and Swiss tradition at its finest.
A place to celebrate autumn
So, if you're looking for a cozy spot in Andorra to celebrate the arrival of autumn and enjoy the best fondue and raclette, we invite you to visit La Fonclette, located in the heart of Canillo. Let yourself be enveloped by the aroma of melted cheese and the taste of Swiss tradition in every bite.
Categories: restaurant, restaurante, ski-plaza
« Projects of the Plaza Terra Viva Foundation.
Christmas at Plaza Hotels & Resorts »